Easter is right around the corner! Here is some inspiration for alternatives to traditional Easter food, and unique ways to spruce up your Easter spread.
Lay out your fruit platter spread into an easy Easter egg! Options and color variations are limitless. Image Credit: Sugar Hero
Carrot Cake Oatmeal Cookies – Amy's Healthy Baking
Great for clean eating, these oatmeal cookies are low-calorie, and are perfect for Easter breakfasts. There is also a gluten-free version, making this practical for family get togethers.
Two Ingredient Fluff Cake – Yummy Healthy Easy
Fat-free and low-calorie, this light, incredible cake only has two ingredients. Top it off with some brightly colored fruit for a memorable Easter cake.
Cheesecake Stuffed Strawberries – Dessert Now, Dinner Later
For a fresh, Easter-feeling – try these brightly colored cheesecake-stuffed strawberries. A tidy finger food for large crowds, they're also convenient for making in bulk.
Easter Carrot Cheese Ball – Yummy Healthy Easy
In the shape of a giant carrot, this kid-friendly cheese ball dip is a festive attention-grabber! Image Credit: Yummy Healthy East
Avocado Deviled Eggs – Ella Claire Inspired
Deviled eggs are a classic party food. For a healthier alternative to traditional deviled eggs, try this avocado version.
Babybel Bunnies – Blessed Beyond Crazy
Made with Babybel, create little bunnies for a kid-friendly Easter snack.
Easter Pancakes – This Little Piggy Stayed Home
For a breakfast as a family, these bunny pancakes are sure to bring many giggles on Easter morning! Image Credit: This Little Piggy Stayed Home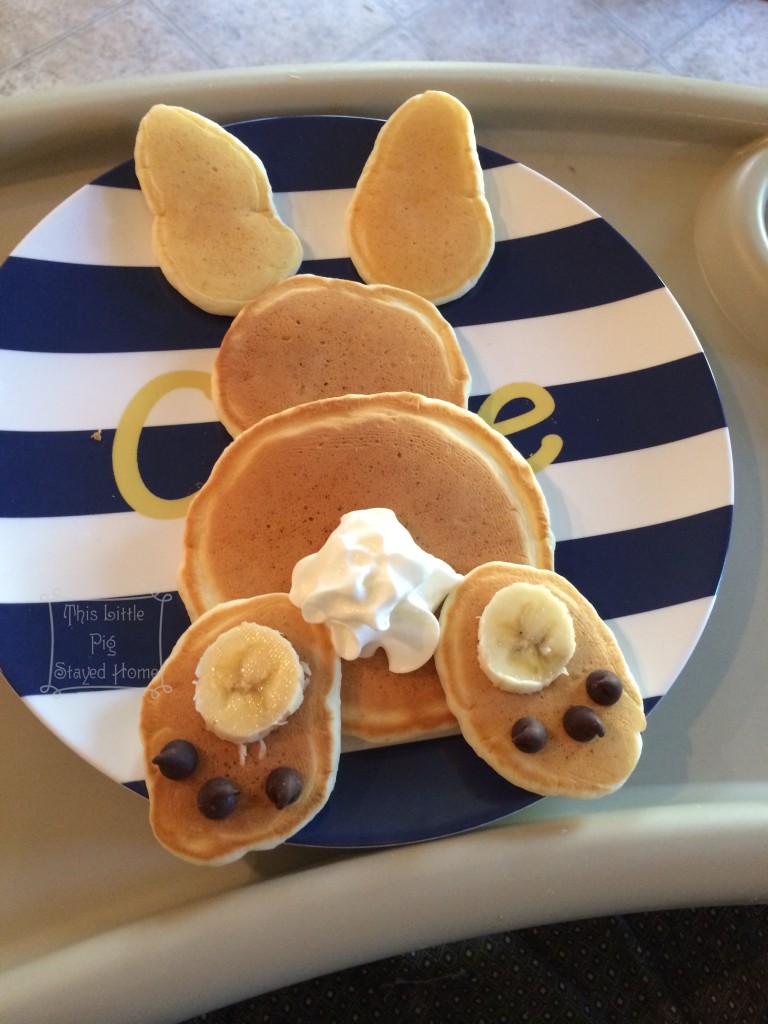 Bacon and Eggs Easter Bunny Breakfast – Worth Pinning
Would you rather have bacon and eggs for breakfast? Try this yummy bacon and eggs bunny!
Easter Bunny Dinner Breadsticks – Bavarian Epicure
Breadsticks are a great addition to any occasion, and these Easter bunny breadsticks are no exception. You could also probably make them with your favorite bread recipe. Plus, they are very simple, leaving little room for error.
Appetizer Veggie Bars – Garnish and Glaze
Light and flaky crescent bars combine with fresh vegetables in these vegetable appetizers.
Easter Egg Breakfast Popsicles – Eats Amazing
As an alternative to traditional Easter egg chocolates, try these breakfast popsicles. They only have four healthy ingredients, and are incredibly simple to make! Image Credit: Eats Amazing
Easter Bark with Jelly Beans – Nosh and Nourish
For a light, crunchy dessert: try this Easter bark. It's similar to brownie brittle, and contains healthier alternatives to regular chocolate.
Bunny Trail Mix for Easter – Mom's Favorite Stuff
For a festive Easter snack with little prep, make your own bunny trail mix!